ABOUT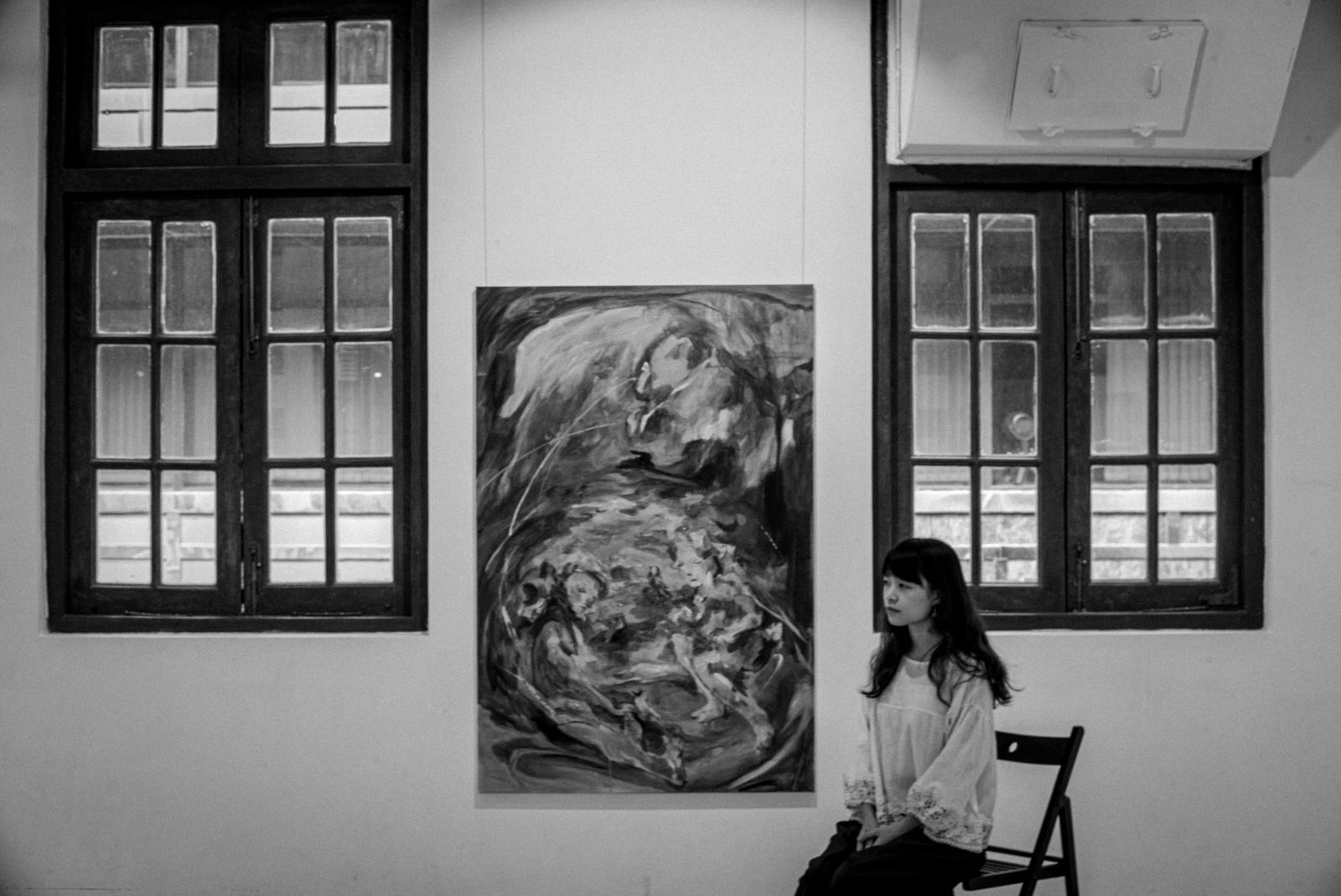 Manny Yip (b.1994, Hong Kong) received BAFA at Royal Melbourne Institute of Technology University (co-presented with Hong Kong Art School).
Her works capture senses of childhood innocence which are both reflections of her memories and yearnings. The abstraction and openness of the spatial interpretation in her works also speak for themselves. They are not merely an obsession with the past, but also an inviting space for viewers to freely associate with their own memories and imaginations.
She has been awarded the Reaching Out Award (2017) which included artist residency programmes in Bulgaria & Chicago, and Grant for Emerging Artists (2019). "Bit Of Memory" is a collaborative artwork which has been invited by The Hong Kong Art Festival for an interview(2021).
Her artworks were collected by private collectors and exhibited in several cities, Hong Kong, United States and Europe. She has also been invited as a selected artist by commercial corporations and as a programme instructor for schools.
Participated exhibitions recently include "Art Basel"(Hong Kong Convention and Exhibition Centre, Hong Kong), "So I say, "It's a landscape painting.""(Hong Kong Art Centre, 2021), "A Place In Time" (The Fringe Club, 2020), "On the Brink of Borrowed Time: To Stay / To Flee" (Hong Kong Arts Centre,2020), "Somewhere Out There" (Gallery by the Harbour, 2019) .
葉雯,1994年生於香港,獲墨爾本皇家理工大學(與香港藝術學院合辦)之榮譽學士,主修繪畫。作品自有抽象、開放的詮釋空間,圍繞著童年及自我探究過程,並以之建造出另一空間與視點。
2017年曾獲香港特別行政區政府獎學基金外展體驗獎,於保加利亞及芝加哥進行藝術家駐留計劃。2019年獲藝發局新苗藝術資助展覽「某年某地」。2021年聯合作品《散記》以新媒體經驗重閱繪畫,被邀為香港藝術節訪問作品。葉氏曾統籌及參與多個藝術教育活動,2021年牛棚藝術村「賽馬會當代「藝述」普及計劃」 擔任工作坊導師,並獲邀與商業單位合作聯乘。
作品於香港、美國、東歐等地方展出,其作品被私人收藏。近年參於展覽包括:巴塞爾藝術展香港展會(香港會展,2021)、而我會說:「這是一幅風景畫。」(藝術中心,2021)、《某年某地》(藝穗會,2020)、「離留之間:文學 x 視藝展覽」(香港文學節,藝術中心,2020)、「還有別處」(海港城‧美術館,2019)等。


EDUCATION
BA Degree in Fine Arts (Painting)
Co-presented by Hong Kong Art School and RMIT University

SOLO EXHIBITION
2016
Natural & Aesthetics
Room 512, 5/F, PMQ, Hong Kong

SELECTED GROUP EXHIBITION
2021
Upon a Flow
Am Space

Art Basel Hong Kong
Hong Kong Convention and Exhibition Centre, Hong Kong

So I say "It's a landscape painting,"
10/F, Hong Kong Art School Gallery, Hong Kong Arts Centre
On the Brink of Borrowed Time: To Stay / To Flee
The House of Hong Kong Literature, Pao Galleries, Hong Kong Arts Centre

A Place In Time - Manny Yip & Kitty Kong Duo Exhibition
Anita Chan Lai-ling Gallery, The Fringe Club
D-Men
2/F, JCCAC, Hong Kong


Somewhere Out There
Gallery by the Harbour, Ocean Centre , Harbour City, Hong Kong


Reverie
Pao Galleries, 4/F- 5/F, Hong Kong Art Centre Hong Kong

Stand Alone
Tamelor Park, Chicago, USA

Connectivity
КЪЩА Creative Hub, Sofia, Bulgaria

Micro-implantation, 2nd Nagist show 2017
Kong Art Space, G/F, 3 Staunton St, Central, Hong Kong


Tentents Site-specific art
Ma Wan Old Village, Hong Kong


AWARDS / FUNDING
2019
Grant for Emerging Artists
Hong Kong Arts Development Council

Outstanding Teacher Award - De Yi Shuang Xin Hong Kong Selection
China Artist Association HKSAR Secretariat

Excellence Award - Picture Book Collection
School of Everyday Life

Reaching Out Award
Education Bureau's Self Financing Post-Secondary Scholarshi, HKSAR Government Scholarship Fund

INTERNATIONAL ARTIST WORKSHOP / ARTIST-IN-RESIDENCE

World of co, Sofia, Bulgaria

Taleamor Park La Porte ,Chicago, USA

Contact: mannyipp@gmail.com